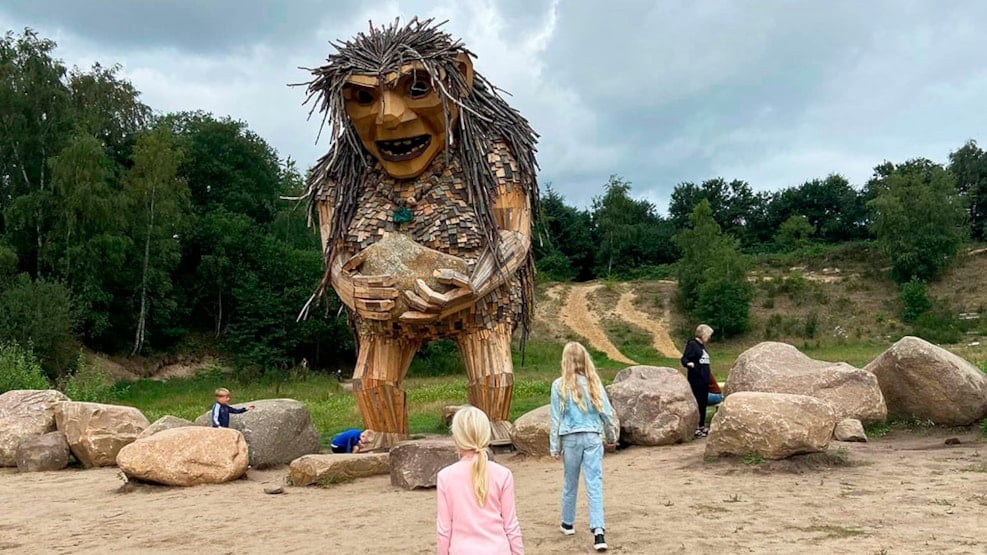 Der Troll Elle
Begeben Sie sich auf die Suche nach dem Troll und der Skulptur Elle, wenn Sie Viborg besuchen. Elle ist ein riesiger Troll, der sich in der Kiesgrube hinter der Søndre Skole in Viborg versteckt. Sie ist ungefähr 6 Meter hoch und wacht über den Ellehügel, der hinter ihr liegt.
Holzkunst und Troll von Künstler Thomas Dambo
Der Troll Elle ist mitten in Viborg groß geworden und stark wie ein Troll. Sie steht mit einem dreitonnen schweren Stein in den Händen, zwischen 100 großen Steinen, alle als Schutz gegenüber den Menschen, um auf die Natur aufzupassen und über den Ellekone Hügel und das gesamte Gebiet im südlichen Teil von Viborg zu wachen.
Elles Helle
Once there was a fairy mound, so young and beautiful and sweet
Once there was fairy dancing when the sun was red
Once there were flowers, beech trees, and the blacksmith dressed in gold
Once the earth was full of worms, and the mole dug the soil.
Then came a giant monster, and it took a bite of the hill
So the fairy girl screamed and ran away across the field
Many long years passed, and the lace turned brown
And the fairy girl returned home to the hill as a woman
And with her, in a sack, she carried a hundred stones on her back
And now she has placed them across the field as a defense that shields the hill
And behind them, Elle now resides in a hideaway from the monster
That tries to enter and devour the hill filled with flowers.
Translatet by VisitAarhus - read the entire poem in danish about Elles Helle on trollmap.com
Weitere Fotos auf Instagram