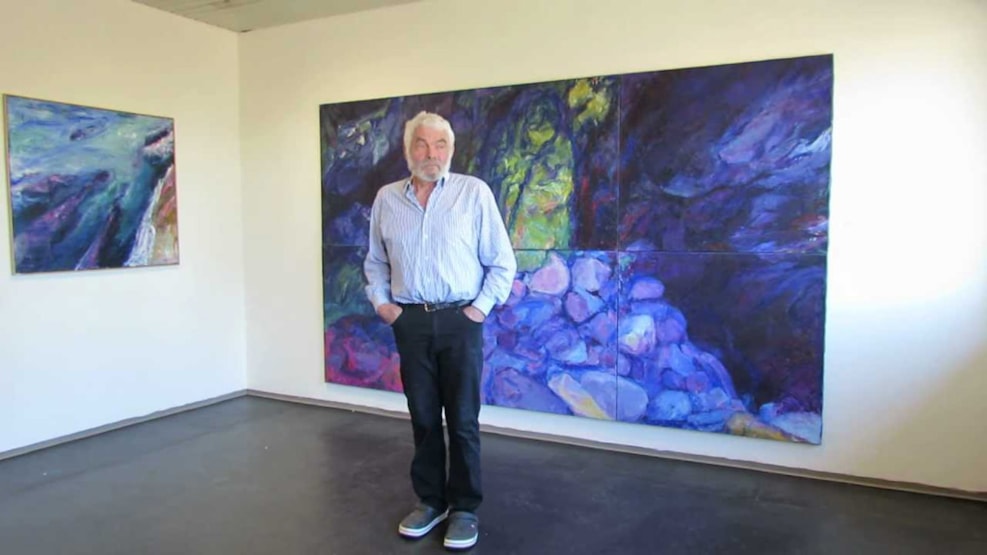 Maler Anders Glob
Diary from Scotland. 
The wind and enormous clouds, ceaselessly moving in across the mountains from the great ocean, sun, moon, stars, rain, snow, storms, together a wonderful light. That is Sutherland, the north of Scotland.
Every winter I come to Scotland, I live out in the Mountains, in my van. No television, no radio, no armchair, no people. Only my paper canvases and paints. I have two" studios" in Sutherland: 'Strath Beg', an empty forbidding Strath, where it is always raining. It is often one of the most hopeless and despairingly places on earth, but when it is at its worse, a small rainbow appears, saying: there is still hope. What one also knows, when one live there for a time, is that in just a few seconds, all turns into paradise on this earth.
My other 'studio' is the 'Secret Beach', a remote beach, difficult to find, and not easy to get to. Massive rocks growing out from the sand, forming into great sculptures. Caves, where the rocks look as if they have just come out of the center of the earth, still warm and newly glazed. Contorted shapes like animals or humans from prehistoric times. The mighty Atlantic sea, which twice in 24 hours is hiding the beach, and is forever sending the great swell ashore, where it like thunder crashes against the cliffs. The Secret Beach, the place, and the Secret Beach inside myself. The canvas, the paper is the meeting place between nature and me. It is there we talk, discuss and experience together. If the canvas, the paper takes over, then there will be a picture. The painting is my diary, intuitive, universal.
 Anders Glob